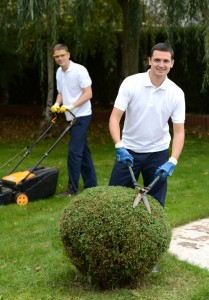 Looking for a reliable garden maintenance and landscaping company to take good care of your plants? That's us! You can trust us with your garden because you'll get an expertise that remains unsurpassed in the entire Melbourne region. That's because all gardening technicians are experienced and operate the professional tools necessary for the job at hand.
Besides, over the years we've come up with a pretty thorough list of gardening services, addressing each and every aspect of your yard and garden care. Even if the service you need isn't listed here, you can still call the customer support. The advisors will do their best to assist you and come up with a solution.
Grab All the Perks You can by Booking Gardeners Melbourne
In addition to providing you the top quality home gardening you wish, booking us also guarantees you some pretty awesome advantages.
You get absolutely free pricing when you contact us online or via the phone
There's a knowledgeable advisor ready to help you 24/7, at every stage of your booking
Thinking about when to have us come over? We have the most convenient booking slots on weekends and holidays.
And if the need arises, you can reschedule the service for free for a time that suits you better, Just give us a 48 hours notice.
Along the many gardening services we provide, you'll also get a personalised discount when booking two or more of them
Get in touch right now and see what are we all about.
Check out the Span of Gardening Services we Offer
Because of the extensive years behind our gardeners' backs, we've developed a broad portfolio of gardening services. That way you can trust us to assist you with everything from lawn mowing, pruning, and irrigation, to more extensive projects, such as garden design and landscaping. Get hold of us right away and let us take care of your garden.
Testimonials

John was great to deal with and made me feel that my queries and requests were quite valid and that he could (did) follow...

- Evie Kavanagh


The gardener did a good job on a couple of the bushes I asked to be cut back. Another he cut back at an angle and somewhat...

- Flynn Bromley


The gardener was amazing. Very honest and polite. He did am excellent job with a difficult garden and gave me practical...

- Caleb Domenic


You make gardening seem like the easiest thing ever! Your gardeners are always prompt and provide great value for money. I...

- Hayley Riordan


Joe did an amazing job and transformed my garden in two hours. He was friendly, hard-working and knowledgeable. Will definitely...

- Christopher Sharkey


Average rating 4.8 out of 5 based on 5 reviews
More than Just a Gardening Company
Gardening is more than just a hobby – it is a passion, and our teams of capable gardeners in Melbourne are completely dedicated to it. We share the belief that a garden should be a sanctuary of peace and quiet, a refuge from the stress of everyday life where a person can relax and spend time with their loved ones. However, creating the perfect landscape can be a challenging and time-consuming job, so for those of you who lack the skills and knowledge, or simply the time to get your hands dirty, we are ready to provide expert tips and high-class assistance. Booking Gardeners Melbourne is how you get that promised serenity, so give us a call right away.