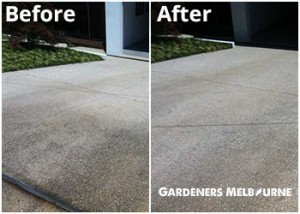 Well-maintained and clean outdoor surfaces speak volumes of the overall care you take of your yard and garden. So trust the pressure cleaning experts to wash the external areas in your property and get the quality cleanse you'd like. We'll help you out with decks, driveways, fences, patios, and pretty much all outside spaces in your home.
Why call the pros? Well, the good old hose rinse wouldn't work as good as you might think but the specialised high-pressure machines we operate definitely will. That's right, the methods we use work perfectly, so get in touch and book your pressure washing.
The Pressure Cleaning Gives You Results. See Why
Efficient and powerful, yet gentle. That's why we know the pressure cleaning will work perfectly for your home. The process uses only water, no detergents, so it's as green as it can get. Besides, the cleaners are all experienced and trained which is why you'll get the awesome results we advertise.
Testimonials

Joe did an amazing job and transformed my garden in two hours. He was friendly, hard-working and knowledgeable. Will definitely...




The gardener did a good job on a couple of the bushes I asked to be cut back. Another he cut back at an angle and somewhat...




Gardener was very fast and hard working! I was impressed with the levelling service. Cheers!




John was great to deal with and made me feel that my queries and requests were quite valid and that he could (did) follow...




I booked a garden waste removal on a very short notice and the guy was early! It rained for most of the time he was here and...




out of 5 based on
And alongside the patio cleaning, there's a whole list of yard and garden maintenance tasks we can easily assist you with. These would include gutter cleaning and green waste removal, as well as weeding, irrigation, landscaping, and a whole lot more. Call now and check out all the services Gardeners Melbourne can offer you.
It's Also Worth it Because of the Many Perks we've Got for You
Last but not least, getting the expert pressure washing technicians to help you out brings about many additional perks:
We cover a vast majority of suburbs in Melbourne, as well as the CBD itself
You can get hold of us and make your booking at any time because we're available 24/7
There's also a wide availability of slots: mornings, odd hours, weekends, and holidays are all fair game
And when you call we'll get you a personalised free pricing
Count on us and get the most thorough pressure washing in Melbourne. Simply call and remember to ask about the deals we've prepared for you.
For Deep Pressure Cleaning Contact Us 24/7